Neptune Lines to Test Applications of Advent Technologies' Methanol-Based Fuel Cells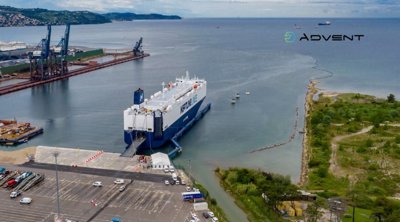 Neptune Lines is pleased to announce the signing of a Memorandum of Understanding with Advent Technologies Holdings, Inc., an innovation-driven leader in the fuel cell and hydrogen technology sectors.
The two companies agreed to jointly conduct a pilot program to explore the application of a fuel cell-based auxiliary power system.  This application will be tested by our highly experienced team, who will evaluate its performance as a sustainable source of power generation.  After the evaluation stage, the parties will consider a broader collaboration.
Advent fuel cells are a reliable source of on-demand power generation across various applications and industries, including shipping, power generation, and in general heavy-duty mobility.  The fuel cells can deliver direct power without power loss from additional converters, offering a sustainable and highly efficient solution.
Dr. Vasilis Gregoriou, Advent's Chairman and Chief Executive Officer said, "we are thrilled to enter into a new collaboration with Neptune Lines and look forward to contributing to their mission to be the most trusted car carrier company, and its vision to always innovate in all areas of its business operations.  This new collaboration can be highly impactful in building a more sustainable future for shipping, especially considering that Neptune Lines' operations span across 19 countries and more than 30 key ports.  We envision biomethanol and e-methanol as the future fuel in shipping, and we are delighted that Neptune Lines has recognized this potential by deciding to work with us.  We are confident that the performance of our fuel cell products will exceed the expectations of our new partner and that we continue this collaboration into the next phase, to achieve a faster transition to a fossil fuel-free shipping sector."
Mr. Craig Jasienski, Chief Executive Officer of Neptune Lines, stated, "Today marks a special day for Neptune Lines since this new collaboration with Advent proves our commitment to one of the most important values that all employees of Neptune Lines share, which is to operate responsibly and to care for the communities we operate in and the environment.  Undeniably, safeguarding the environment is an integral part of our operational policy and investment decisions.  We believe that Greener Shipping will play a vital role in preserving our environment, while promoting a cost-efficient business culture.  I truly see great potential in Advent's methanol-based fuel cells and look forward to the success of our pilot program so that we can move this new collaboration into the next phase."